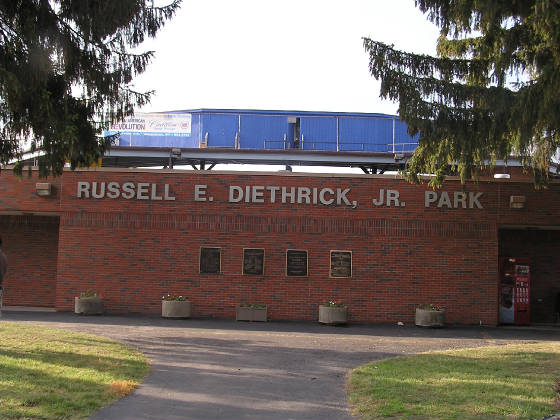 TEAM ::: JAMESTOWN JAMMERS
LOCATION ::: JAMESTOWN, NEW YORK
MY FIRST VISIT ::: JUNE 21, 2006
OPPONENT ::: MAHONING VALLEY SCRAPPERS
LEVEL ::: NEW YORK - PENN LEAGUE 'A'
FORMERLY KNOWN AS :: COLLEGE STADIUM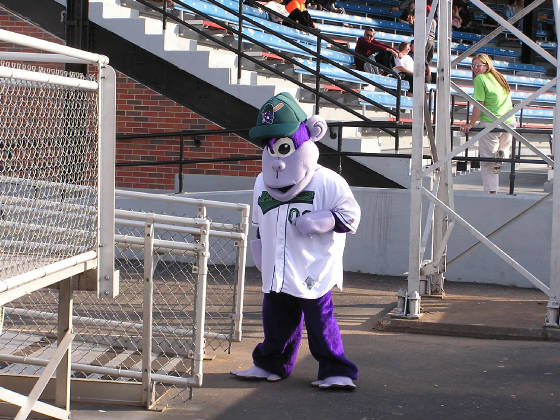 RATINGS

BALLFIELD ::: A
SCOREBOARD ::: C+
FOOD ::: B
FACILITIES ::: B
MASCOT ::: A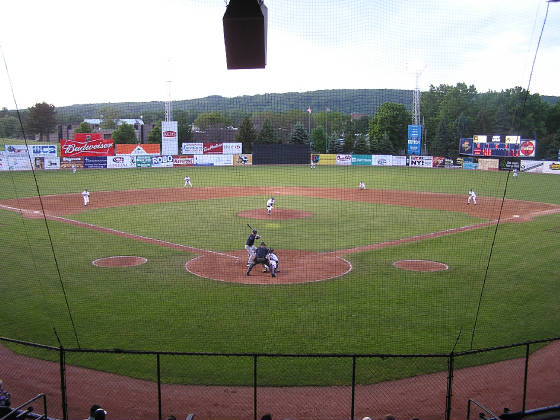 MY TAKE ON THE PARK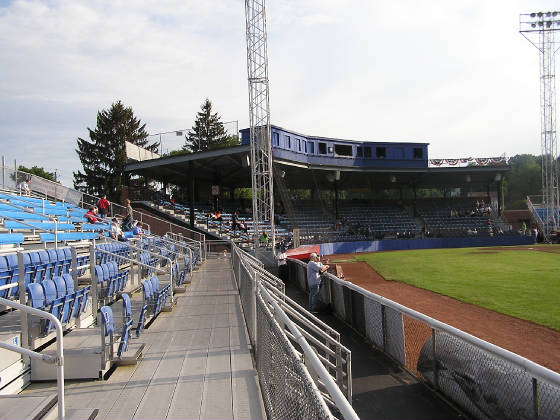 UPSTATE NEW YORK IS ALWAYS A FAVORITE BASEBALL TRIP FOR ME. FROM ALBANY TO BINGHAMTON, SYRACUSE TO BUFFALO THERE IS A PASSION FOR BASEBALL LIKE
NOWHERE ELSE IN THE COUNTRY. MY FIRST VISIT TO JAMESTOWN WAS NO
DIFFERENT THAN MY PREVIOUS VISITS TO UPSTATE NEW YORK, WHICH WAS A VERY PLEASANT SURPRISE.

LOCATED CLOSER TO ERIE, PA THAN ANY OTHER CITY, JAMESTOWN IS A SMALL CITY IN WESTERN NY. THERE IS REALLY NOTHING FOR 3 HOURS EAST OF THE CITY, THE DRIVE FROM BATH,NY TO JAMESTOWN, NY IS A VERY LONG(!!) RIDE.
THE CITY OF JAMESTOWN HAS A LOT OF HILLS AND IF YOU DRIVE AROUND A BIT YOU WILL SEE THAT SOME ROADS ALMOST GO STRAIGHT UP. AT THE BOTTOM OF ONE OF THOSE HILLS, 1 BLOCK OFF OF THE MAIN ROAD IS RUSSELL DIETHRICK JR FIELD.
FREE PARKING ON THE GRASS, SITS IN FRONT OF THIS BRICK STRUCTURE,
PREVIOUSLY KNOWN AS COLLEGE STADIUM. ON MY TRIP HERE I WAS LOOKING FOR THE COLLEGE KNOWING THE PREVIOUS NAME BUT I NEVER SAW A SIGN FOR IT.
ONCE INSIDE THE PARK, THE CONCOURSE IS ON GROUND LEVEL WITH CONCESSION STANDS OFF TO THE LEFT AND THE SOUVENIR STORE TO THE RIGHT. I WOULD GUESS THE SMALLEST SOUVENIR STORE IN BASEBALL IS LOCATED IN JAMESTOWN.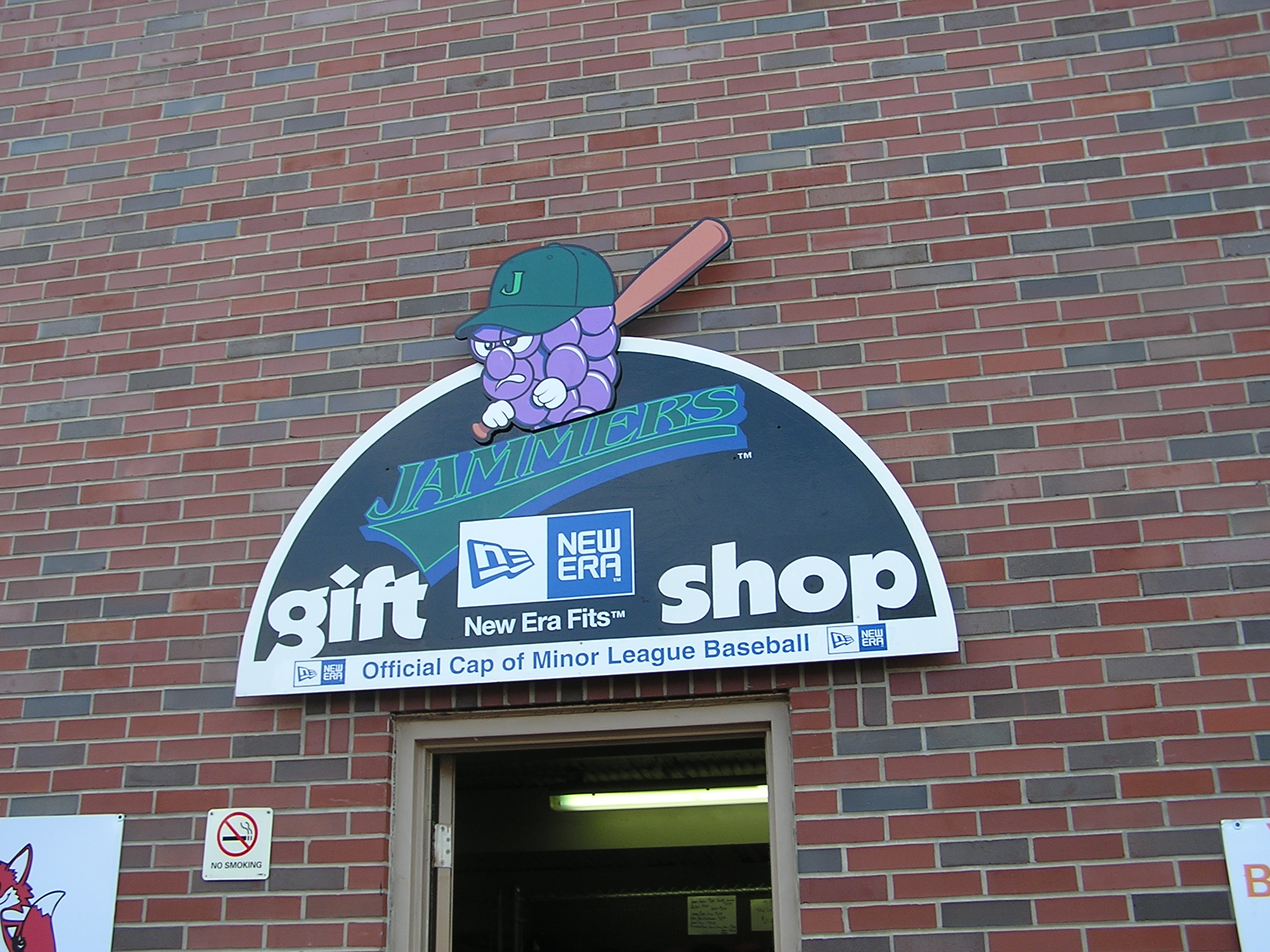 WITH THE NEW LOGO AND COLOR SCHEME, I THOUGHT THERE WOULD BE MORE TO CHOOSE FROM, STANDARD HATS AND T-SHIRTS ARE ALL THAT IS AVAILABLE.
OVER BY THE CONCESSION STANDS, A
HOT DOG IS $2.25 AND A LARGE SODA $2.75, BUT THE BEVERAGE I WAS LOOKING FOR WAS GRAPE JUICE. IT IS SOLD HERE FOR $1.50. JAMESTOWN IS LOCATED NEAR MANY NEW YORK WINERIES AND WHY THE LOGO FOR THE "JAMMERS" IS NOW A GRAPE.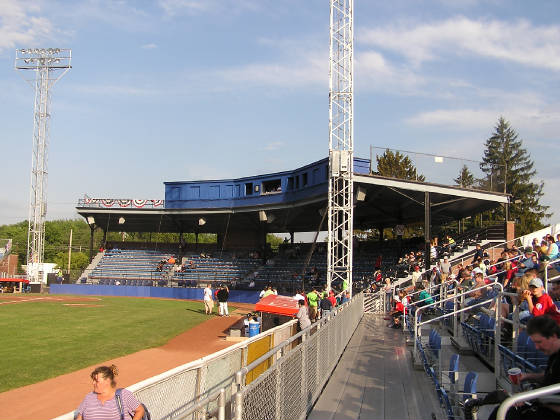 ONCE INTO THE SEATING AREA, IT IS BASEBALL PURE AND SIMPLE. I WOULD
SUGGEST THE 3RD BASE SIDE FOR SEATING DUE TO THE SUN SETTING BEHIND 3RD BLINDING THE 1ST BASE BLEACHERS. THERE ARE 3 OR 4 ROWS OF CHAIRS AND THEN THE REST OF THE PARK IS METAL BLEACHERS. AFTER ONE INNING YOU KNOW
THAT THIS IS HOW BASEBALL WAS MEANT TO BE. THE HOME TEAM BATTERS DO NOT HAVE 10 SECONDS OF THEIR FAVORITE SONG BLASTING AS THEY COME TO THE PLATE, BETWEEN INNING CONTESTS ARE SIMPLE AND QUICK, AND EVERYONE AT THE
PARK SEEMS TO BE HAVING A REAL GOOD TIME. WHILE ENJOYING THE
SURROUNDINGS I COULD NOT HELP BUT NOTICE THE DIFFERENT STYLE OF LIGHT TOWER. THEY REMINDED ME OF THE ERECTOR SET TOWERS AT OLD MacARTHUR STADIUM IN SYRACUSE.
JAMESTOWN, NY IS THE HOME TOWN OF LUCILLE BALL AND IN TOWN YOU CAN FIND A MUSEUM AS WELL AS THEATER WITH MANY OF THE ORIGINAL SETS FROM "I LOVE LUCY". THE REAL TREAT IN JAMESTOWN THOUGH IS ON THE OTHER SIDE OF TOWN, AT DIETHRICK FIELD, HOME OF THE JAMMERS. A PLACE WHERE BASEBALL IS TREATED THE WAY ITS SUPPOSED TO BE.
MAYBE MY FAVORITE FEATURE WAS THE SCOREBOARD, THE HITS NUMBER IS NOT FILLED IN UNTIL THERE IS ONE. SO, THE BOARD READS 0 RUNS (BLANK) HITS 0 ERRORS UNTIL A 1 GOES TO THE HIT COLUMN. I JUST REALLY LIKED IT, I ALSO REALLY LIKED THE PARK.
A TRIP TO JAMESTOWN MAY NOT BE THE FINAL DESTINATION ON A TRIP, BUT ON THE WAY TO BUFFALO, CLEVELAND, OR EVEN ERIE, JAMESTOWN IS A PERFECT
PLACE TO STOP THE DAY BEFORE OR AFTER ONE OF THOSE CITIES.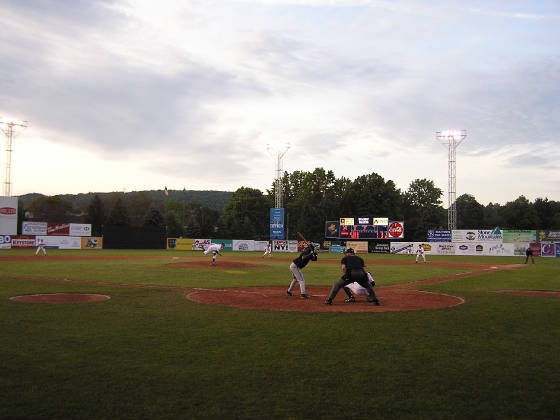 THE LINE UPS

MAHONING VALLEY MANAGER ::: 24 ROUGLAS ODOR

JAMESTOWN MANAGER ::: 16 BO PORTER

MAHONING VALLEY SCRAPPERS

29 Evandy DeLeon cf
10 Andrew Lytle ss
15 Jason Denham dh
12 Jared Goedert 3b
25 Cirilo Cumberbatch rf
17 Josh Roberts 1b
32 Kelly Edmundson c
11 Stephen Douglas lf
8 Brent Lacey 2b
28 J.D. Martin p
20 Dan Eisentrager WP
16 Neil Wagner S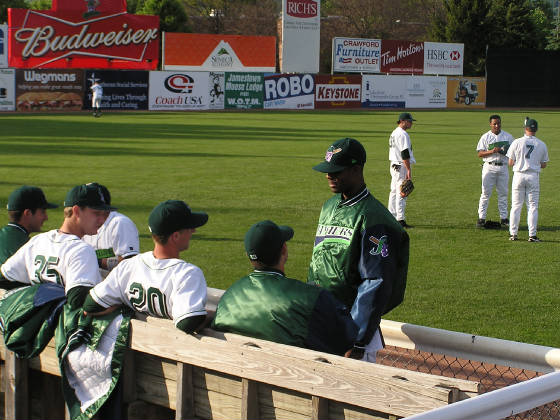 JAMESTOWN JAMMERS

5 Scott Cousins cf
7 Andrew Saylor 2b
4 John Raynor rf
27 Nate Messner 1b
32 David Mense lf
1 Jacod Blackwood 3b
25 Jamar Walton dh
12 Chris Hatcher c
6 Guillermo Martinez ss
44 Kyle Winters p
23 Rodolfo Encarnacion LP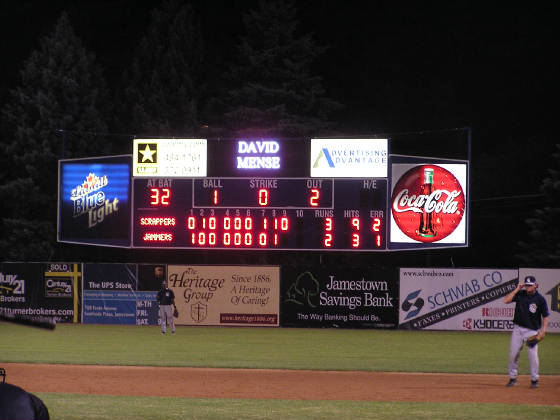 SCRAPPERS 010 000 110 3 9 2
JAMMERS 100 000 010 2 3 1


TIME ::: 2:29
ATTENDANCE ::: 1,934
WEATHER ::: 82 CLEAR

SEND ME AN E-MAIL
LINKS
The Official site of the Jamestown Jammers
The Holiday Inn in Jamestown - A comfortable place to stay after the game
Located in the heart of Jamestown - The Lucy-Desi Muesum
Jamestown weather from WEATHER.com

© 2000-2012 UNCLE BOB'S BALLPARKS
I AM IN NO WAY AFFILIATED WITH ANY OF THE TEAMS ON THIS PAGE ...THIS PAGE IS MEANT FOR INFORMATION PURPOSES ONLY.